If you are using a central e-mail signature then you will need to disable your signature in Outlook so a duplicate isn't added (or the central signature is ignored). You won't see the central signature on your e-mail, it is added when it is sent. (You will see the signature on replies you receive)
Please follow these instructions in Outlook to disable your signature:
Open a new email message.

Select Signature > Signatures from the Message menu.
Depending on the size of your Outlook window and whether you're composing a new email message or a reply or forward, the Message menu and the Signature button might be in two different locations. 



Under Choose default signature, choose none for New messages and Replies/forwards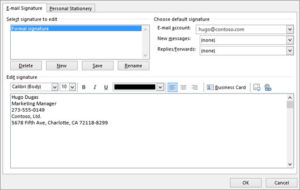 Click OK
That's it, you can also remove any signatures on mobile devices.